Brief biography Akhmatova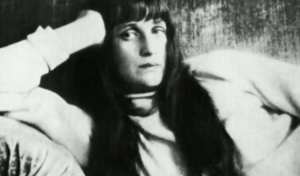 large Fountain – this place near Odessa, where it was destined to be born Akhmatova Gorenko in June 1889 of the year. Poet born in a noble family. Her father – captain, marine engineer, a real man. Surname Gorenko has ancient roots and noble origin. His resignation was the occasion for the move to the capital. This family of Tatar blood, and Akhmatova – it was her alias.
She studied at Kiev, Fundukleyev in gymnasium. Before that was Tsarskoselskaya gymnasium. Personal life of this woman is full of novels and love to tears. AT 1910 she married a talented Nikolay Gumilyov, who feel, Anna – Therefore the rank above! This has largely been the cause of their brief union. As already 1911 Akhmatova's work was well known, it appeared the first publication.
A native of Odessa early became popular and recognized, among her contemporaries were poets Yesenin and Block. AT 1912 year, a selection of poems appears "night". This collection is exposed to positive criticism. AT 1914 He was held out poetry collection "Beads". Four years later she married the historian. TO. Shyleyko, children they had.
AT 1921 , the former spouse of H. Gumilyov was executed by the Bolsheviks. AT 1922 g. it became law wife critic Punin. Marriage is not given to be long, after they broke up three years. The war forced her to move to Tashkent, write cycles unique patriotic. AT 1946 , she and M. Zoshchenko came under criticism and were excluded from the Writers' Union.
The theme of repression has been reflected in the poem "Requiem". She was always proud of his son, Lev Gumilyov, who spent in prison more 10 years old. Devoted mother regularly tried to secure the release of L. Gumilyov. BUT. BUT. Akhmatova was attacked by the authorities, which prevented the promotion of her work. Nearly 10 years many of her creations were not published after his death.
Only in suffering it brings forth the true art, which should definitely meet. Analysis of the creativity of the poet and literary masterpieces helps to understand some of the historical processes and events, It makes you think. 1958 – Akhmatova collector output "poems", and 1964 year, she got the Italian award "Etna-Taormina".
Anna Akhmatova was able to spend almost 80 years old, He died in the 1966 year, 5 Martha.
It was not just a poet and literary critic, but also a translator. Monuments Akhmatova have even abroad. Her books easily sold worldwide. Interest in her work – a sign of good taste. She became the brightest poet of the Silver Age. Know and recite a few lines of its prestigious. On its literary principles of learning hundreds of young writers.
quotations, poetry, Akhmatova's poems, even those familiar, who is far from Russian literature. Lyric writer is full of love and tragedy, despair and hopelessness of the situation. There are long poems, have short, are placed in 12 term. Many people have two names. Verse "Almost Album" often call "hear the thunder". Any collection of poems decorate personal library.